Voor de krullenbollen onder ons!
Hebben jullie in deze winterperiode ook zo'n last van onhandelbare krullen?! De krullen zakken uit, worden pluizig en je verliest volume. Een nachtmerrie voor de echte Curly Girls onder ons!
Zal ik je mijn routine vertellen? Ik gebruik de Keune Care Curl Control-lijn van Keune Haircosmetics. Die bestaat uit een Shampoo, Conditioner, Mask, Boost Spray en een Defining Cream. Wat doet de Keune Curl Control nou? De Keune Curl Control zorgt voor zachte, veerkrachtige en pluisvrije krullen. Curl Control is ontwikkeld voor mensen met een mooie slag of prachtig krullend haar. De keratineproteïnen in de producten verjongen de haarvezels in het haar, met als resultaat sterkere krullen met een gezonde haarstructuur en goed verzorgde lokken. De frambozenzaadolie in de producten hydrateert de krullen en maakt ze zacht en handelbaar. Ook zorgt de olie ervoor dat de krullen pluisvrij zijn. Deze olie is rijk aan vitamine E en de vetzuren omega 3, 6 en 9. Het uit hout verkregen Curl Bounce System versterkt de krullen en geeft ze een nieuw leven. Het resultaat: sterke, glanzende, elastische en veerkrachtige krullen.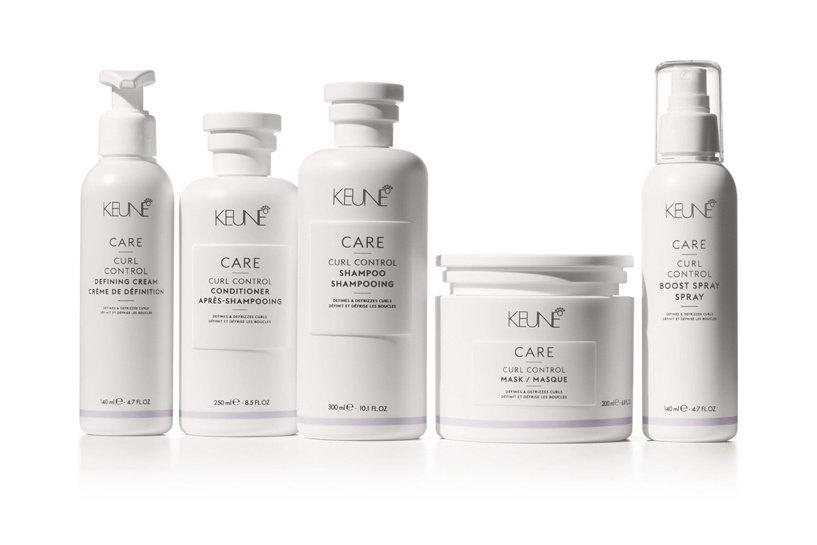 Keune Curl Control Routine
Mijn routine: Ik begin met mijn haar te wassen met de Keune Curl Control Shampoo. Ik was het twee keer achter elkaar. De eerste keer om vuil te verwijderen, en de tweede keer om mijn krullen te verzorgen. Na het wassen verzorg ik mijn lengtes met de Keune Curl Control Conditioner. Deze laat ik 1-3 minuten inwerken en daarna spoel ik mijn haar met lauw water uit.
Tip: Dat kleine beetje extra volume nodig? Kneed een klein drupje Keune Style Ultra Gel in jouw lengtes! Als je het haar daarna droog geföhnd hebt, kneed je de harde laag eruit en zo heb je een extra volume boost!
Eén op de drie wasbeurten verzorg ik mijn haar door er de Keune Curl Control Mask in te laten werken. Deze laat ik er 5 minuten inzitten en voor dat ik het uitspoel borstel ik alles door zodat mijn haar knoopvrij is. Na het wassen droog ik mijn haar met een oud T-shirt of een microvezel handdoek om de pluis tegen te gaan. Nu is mijn haar schoon en verzorgd en gaan we door naar de styling! Eerst spray ik de Keune Curl Control Boost Spray in mijn haar. Deze spray verzorgt en hydrateert mijn krullen, ook geeft de spray extra versteviging! Spray licht in de lengtes en voornamelijk op de aanzet van je haar voor extra volume. Daarna neem ik twee pompjes van de Keune Curl Control Defining Cream en verdeel deze over de lengtes van mijn haar. De Keune Defining Cream doet eigenlijk precies wat hij zegt. Hij haalt de pluis uit je haar en geeft definitie aan jouw krullen. Ook maakt hij de krullen mooi zacht en glanzend! Scrunch je haar in model door op de kop te hangen en met je handen je haar te kneden voor meer slag/krul in jouw haar. De laatste stap is föhnen. Ik föhn mijn haar met een diffuser. Deze creëert een mooie krul, maar zorgt ook voor volume! Zorg dat je haar helemaal droog is. En daar zijn de krachtige verzorgde krullen!
Ik hoop dat ik jullie een beetje heb geholpen! Wat is jouw krulroutine?
Liefs,
Lisette