Gezelligheid, Kerst, kacheltje aan en met een beker warme chocolademelk op de bank hangen. Het winterseizoen vind ik een heerlijke tijd. Maar mijn haar denkt daar zeker anders over. Het wordt statisch van de wollen sjaal. Door de kachel wordt het haar een stuk droger met alle vervelende gevolgen van dien. Niet de beste tijd voor je haar en huid. Maar gelukkig kunnen we met wat extra aandacht en extra verzorging van je haar door middel van producten het wel ietsje makkelijker maken. Nu denk je natuurlijk; weer een scala aan producten aanschaffen waar je na de winter niks meer aan hebt. Want dan heeft je haar weer andere verzorging nodig. Dat is gelukkig niet helemaal waar.
Deze keer ga ik het hebben over een specifieke lijn uit de Care producten van Keune Haircosmetics: de Keune CareSatin Oil-lijn, met in het bijzonder de Satin Oil Treatment. De naam verklapt het eigenlijk al een beetje… Oil. In deze lekker geurende lijn van Keune is een olie toegevoegd. Met een reden natuurlijk. Wie wil nou geen glanzende bos haar dat niet pluist en droog lijkt. De productlijn bestaat uit een Shampoo, Conditioner, Mask, Milk en de Treatment. Voor degene die altijd al een beetje glans in het haar mist en haar heeft dat snel statisch en pluizig wil worden zijn de Shampoo, Conditioner en Mask in elk geval aanraders. De Milk is ook een heel fijn product voor de haartypen die van een masker snel zwaar worden.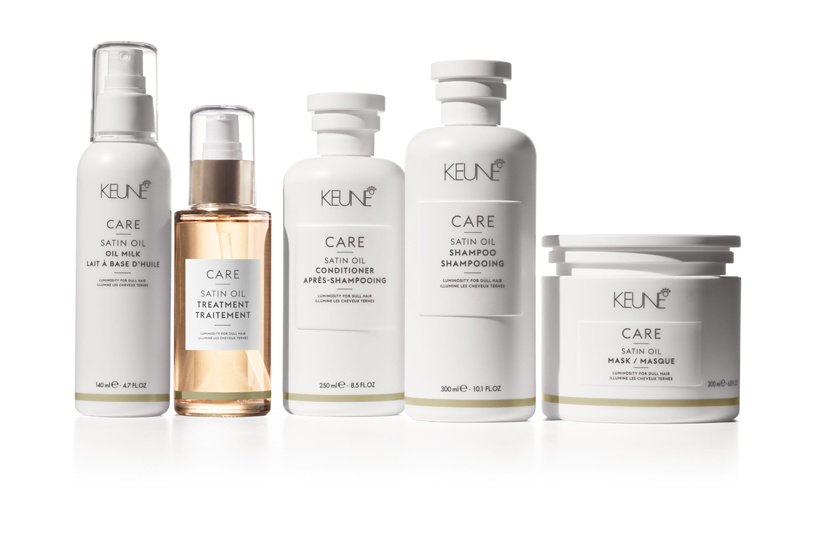 De Treatment is een persoonlijke favoriet, omdat ik het bijna dagelijks gebruik. Ik zal je vertellen waarom ik dat doe. De Treatment is een mooi serum dat vrij lobbig aanvoelt. Zelf gebruik ik het vaak wanneer ik mijn haar heb geföhnd of gekruld met een krulborstel/krultang. Een drupje nadat het afgekoeld is en mijn haar wordt weer gevoed en beschermt. Plus(!) het krijgt een fantastische glans en mijn haar wordt niet zwaar. Dat is al één reden waarom ik het onmisbaar vind op mijn kaptafel.
Reden twee is dat ik ditzelfde product ook gebruik als toevoeging aan mijn normale haarverzorging wanneer mijn haar dit nodig heeft, zoals in de wintermaanden. Zelf gebruik ik de Tinta Color Care lijn van Keune in combinatie met het Keratin Smooth Mask. Mijn eigen haar heeft het in deze maanden best zwaar te verduren en kan dan best een beetje extra verzorging gebruiken. Wat ik dan graag doe is één pompje Satin Oil Treatment toevoegen aan mijn Conditioner of Mask. De Treatment zorgt voor de extra verzorging die mijn haar dan goed kan gebruiken! Het kost niet eens meer tijd en ik hoef geen extra product aan te schaffen, want ik gebruik het toch al.
Wat doen jullie eigenlijk om je haar een beetje in toom te houden tijdens de koude dagen?
Lieve groetjes,
Nadia