Haar- of toch hoofdhuidproblemen?
We kennen het allemaal wel… Je hebt net je haar gewassen met die lekkere shampoo en de volgende dag is het alweer drama. Vet haar aan de bovenkant en de punten droog en pluizig. In deze tijd van het jaar kan het zelfs statisch zijn. Verschrikkelijk! Je wast het wekelijks wel keer of vier. Elke keer wissel je weer van shampoo… droog haar, vet haar, anti-roos en noem maar op. Je weet het inmiddels niet meer en het enige wat helpt is praktisch elke dag wassen.
Maar... wist je eigenlijk wel dat de meeste 'haar-problemen' afkomstig zijn van de hoofdhuid? Nee hé, nou heel veel mensen weten dat niet. Daarom probeer ik met deze blog jou iets meer inzicht te geven MET enkele opties qua producten die je kunt gebruiken!
Keune Haircosmetics heeft namelijk een hele mooie productlijn genaamd Derma. Er zijn vier verschillende Derma-lijnen, elk voor weer een ander probleem.
Derma Activate
Deze lijn stimuleert de haargroei.
Derma Sensitive
De naam zegt het eigenlijk al. Deze lijn is goed voor de gevoelige hoofdhuid. Denk hierbij aan branderigheid en een jeukend gevoel na het wassen.
Derma Exfoliate
Deze lijn is bedoeld voor het reinigen van de hoofdhuid. Het heeft een zachte werking, maar reinigt wel heel intensief.
Derma Regulate
Deze is bedoeld voor het reguleren van de talgproductie.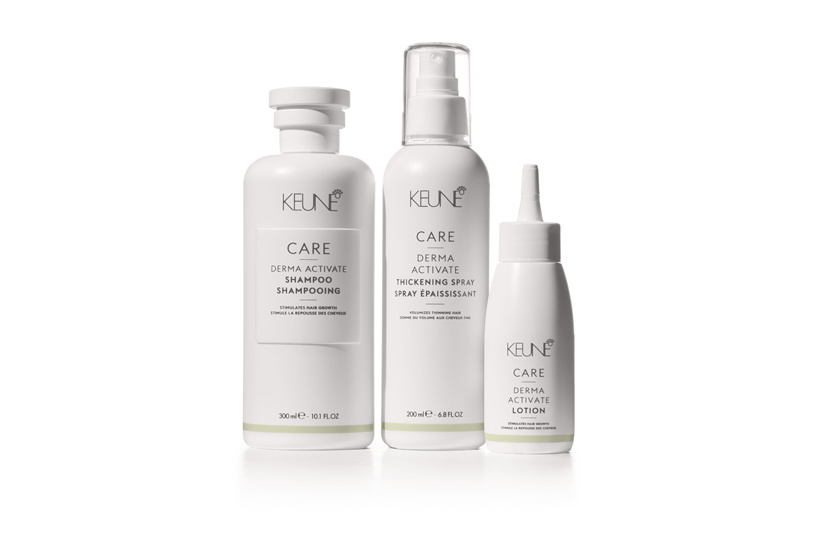 Nu is het misschien nog wat onduidelijk, maar ik zal wat scenario´s omschrijven en ook de bijpassende producten benoemen. Bijvoorbeeld je haar, dit wordt erg snel weer vet. Je moet het wel vier keer per week wassen om dat frisse schone gevoel te behouden. Minder wassen is eigenlijk niet mogelijk, want het wordt steeds sneller vet. Door het vele wassen haal je steeds het beschermende laagje (talg) van je hoofdhuid af. Talg heb je nodig om je hoofdhuid te beschermen, dus je talgklieren gaan steeds harder aan het werk en maken steeds meer talg aan. Mijn advies is dan om te beginnen met de Keune Care Derma Exfoliate Shampoo. Deze zorgt er namelijk voor dat je hoofdhuid weer lekker schoon wordt. Dit gebeurt dan wel op een zachte manier, zodat de talgklieren niet nog meer getriggerd worden om harder te gaan werken. Probeer het wassen af te bouwen naar drie keer per week. Houd er rekening mee dat je huid hier een tijdje aan moet wennen. Na ongeveer twee maanden stap je over op de Keune Care Derma Regulate Shampoo. Deze shampoo kun je in de toekomst blijven gebruiken want die zorgt ervoor dat de talgproductie 'normaal´ blijft. Je haar zal veel minder snel vet worden en als het goed is kun je het wassen beperken tot twee keer per week. Zo blijven je lengten en punten ook mooi glad en gezond!
Wat ook veel voorkomt is het volgende: Je bent net trotse moeder geworden. In de zwangerschap had je een fantastische haardos. Mooi glanzend, het heeft nooit eerder zo mooi gezeten. Maar dan… het valt uit. Het lijkt niet te stoppen en na enkele weken ben je nog nooit zo droevig geweest. Het is zo ontzettend weinig en niet meer wat het geweest is. Dit is een hele natuurlijke ontwikkeling, vanwege het hormooncircus wat zich in je lichaam afspeelt. Maar zeker niet tof! Hiervoor is de Keune Care Derma Activate-lijn praktisch uitgevonden! Deze lijn zorgt er namelijk voor dat de haarfollikel (waar de haar uit groeit) wordt gestimuleerd om te groeien. De lijn heeft een intensieve lotion die te gebruiken is als kuur. In combinatie met de andere producten kan dit zeker een oplossing zijn om na verloop van tijd je mooie volle bos haar terug te krijgen!
Natuurlijk zijn er nog veel meer scenario´s mogelijk en ook daar zijn passende producten voor! Zit jij ook letterlijk met de handen in het haar, laat het weten en misschien kan ik je wel helpen de juiste producten te vinden voor jouw haar- of toch hoofdhuidissues!
Tot snel!
Lieve groetjes, Nadia